Nutrient Symposium 2015
July 26–28 | San Jose, CA
Dedicated to those involved in addressing nutrient issues in today's world and focused on the practical design and process operations of dealing with nutrient issues across the globe, Nutrients Symposium 2015 will address the challenges of sustainable nutrient management through exchange and sharing of best practices.
Conference session topics will include the following:
Nutrient Removal and Recovery
BNR Optimization and Process Demonstrations
Research and New Technologies
Operations
Process Control Optimization
Nutrient Management Lessons Learned
Compliance Strategies
Today, the U.S. Environmental Protection Agency's Regional Administrator Jared Blumenfeld announced a record $1.6 billion in Clean Water Act State Revolving Funds – the largest single block of financing ever issued – to upgrade the Sacramento Regional Wastewater Treatment Plant. Mr. Blumenfeld announced the loan award at a groundbreaking event for the treatment plant in Elk Grove, California. The project will bring the wastewater plant to advanced treatment levels, removing nearly 95 percent of ammonia from wastewater discharges to protect the Sacramento River and San Francisco Bay Sacramento-San Joaquin Delta Estuary.
"California's economic security depends on a healthy Bay Delta, the largest and most important estuary on the West Coast," said Jared Blumenfeld, EPA's Regional Administrator for the Pacific Southwest. "EPA's Clean Water Act State Revolving Funds are a key investment in clean water infrastructure to protect this precious resource."
The Bay Delta supports over 750 animal and plant species and is the hub of California's water distribution system, supplying drinking water to 25 million people and irrigation water to 4 million acres of farmland. The Bay Delta ecosystem has been degraded over time by many factors, including discharges of ammonia, nitrate and other pollutants.
Nearly 150 registrants attended the Biosolids & Renewable Energy Workshops hosted by the California Water Environment Association (CWEA) and the California Association of Sanitation Agencies (CASA) on May 12th and May 13th respectively. Our wonderful hosts at the Central Contra Costa Sanitation Agency in Martinez, CA and the Hyperion Wastewater Plant in Los Angeles, CA provided us with great facilities, so consultants, regulators, project managers, and engineers from throughout California could hear information on long term Biosolids treatment and renewable energy options. At the conclusion of the workshop, attendees left with a framework for determining the questions necessary to critically evaluate the merits and applicability of technologies for implementation.  The presentation and speaker contact information is now available at the link below and on the casaweb.org and cwea.org websites.
http://www.casaweb.org/events/casa-and-cwea-biosolids-and-renewable-energy-seminar
---
Nice-Pak Products Were also Sold under Costco, CVS, and Target's Private Labels
Under a settlement with the Federal Trade Commission, Nice-Pak Products, Inc., a manufacturer of wet wipes, has agreed to stop advertising moist toilet tissue as flushable unless it can substantiate that the product is safe to flush. Similarly, Nice-Pak agreed to not claim that its moist toilet tissue is safe for sewer and septic tanks unless it has substantiation for those claims.
In addition, Nice-Pak will stop providing trade customers, such as retailers, with information to make such unsubstantiated claims. Costco, CVS, Target, and BJ's Wholesale Club were Nice-Pak customers that sold the formulation of the company's moist toilet tissue that was the subject of the complaint under their own private labels.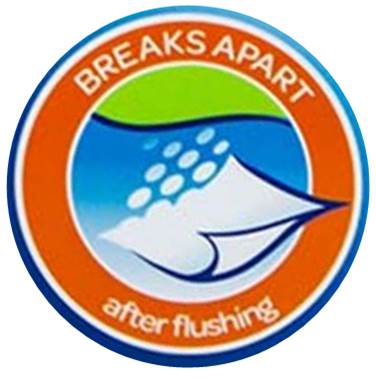 "The evidence didn't back up Nice-Pak's claims that their wipes were safe to flush," said Jessica Rich, Director of the FTC's Bureau of Consumer Protection. "If you claim a product is flushable, it needs to flush in the real world, without clogging household plumbing or sewer and septic systems."
According to the FTC's complaint, Nice-Pak violated the FTC Act by misrepresenting that a certain formulation of its wipes: 1) are safe for sewer systems; 2) are safe for septic systems; 3) break apart shortly after being flushed; and 4) are safe to flush. The FTC also alleges Nice-Pak provided the means and instrumentalities for retailers and others that marketed the product under their own label to make similar misrepresentations. The company's tests did not reflect, real world household plumbing or septic conditions, the FTC alleged.
On Thursday, May 28, 2015, U.S. EPA Region 9 Administrator Jared Blumenfeld will join federal, state and local officials and stakeholders at an official groundbreaking to launch construction of the EchoWater Project in Elk Grove, Calif. This $2 billion project will bring the Sacramento region's wastewater treatment plant to tertiary treatment levels to meet new State requirements to remove ammonia and nitrates, along with filtration and enhanced disinfection before discharge to the Sacramento River. Funding for the project has been secured through low-interest financing from California's Clean Water State Revolving Fund — the largest single block of financing ever issued to a project under the state's revolving fund program — which will help reduce interest-related costs by a half billion dollars during the life of the loan, providing long-term savings to ratepayers.
WHAT: EchoWater Project Official Groundbreaking Event
WHEN: Thursday, May 28, 2015 – 11 a.m. to 12 p.m.
WHERE: Sacramento Regional Wastewater Treatment Plant
8521 Laguna Station Road, Elk Grove, CA 95758
(Enter Main Gate, Follow Event Signs to Groundbreaking Site)
MEDIA: Following event, officials will be available for interviews and b-roll/video/photo opportunities.
WHO:
Jared Blumenfeld, EPA Region 9 Administrator
Felicia Marcus, State Water Board Chair
Jon Costantino, CVRWQCB Board Member
Rep. Doris Matsui, United States Congress
Rep. Ami Bera, United States Congress
Rep. John Garamendi, State Senate
Richard Pan, State Senator
Kevin McCarty, State Assemblymember
Ken Cooley, State Assemblymember
Jeannie Bruins, Citrus Heights Vice-Mayor